"Du kannst nichts schuldig sein, wenn du das Licht der Sonne zurück gibst."
Antonio Porchia, Dichter
Sungazing.de for everyone
… in all languages
I have made it my task to make the practice of Sungazing available worldwide in all 24 major languages. Once you have experienced the effect of the sun in this way, you can't do otherwise :).
About Sungazing you can find a lot in English on the net, but hardly in other languages. Especially the completeness of the information leaves much to be desired. I think that on www.sungazing.de everything was said what it needs. Especially Sungazing should be easily accessible to everyone, and on my travels I noticed clearly that even the poorest mostly have smartphones with access to the Internet.
The backend of the site has already been rebuilt for other languages. Now I am looking for more translators :). Who has friends & interest in the near future to translate the website completely or partially? Just send me a message! Due to the nature of the matter, I consider automatic translations too dangerous.
A crowdfunding serves to finance the whole thing. In addition, I will take surplus donations from the Sunmeditation workshops as soon as & if possible.
If you have experienced the effect of Sungazing yourself and want to give others access to this method as well, you can support it here!
To the Paypal Moneypool for Sungazing.de:
Donate by bank transfer & Crypto currencies also possible – just ask ;).
Here you can inform yourself about the current status of the work on the website and translations, as well as the resources used: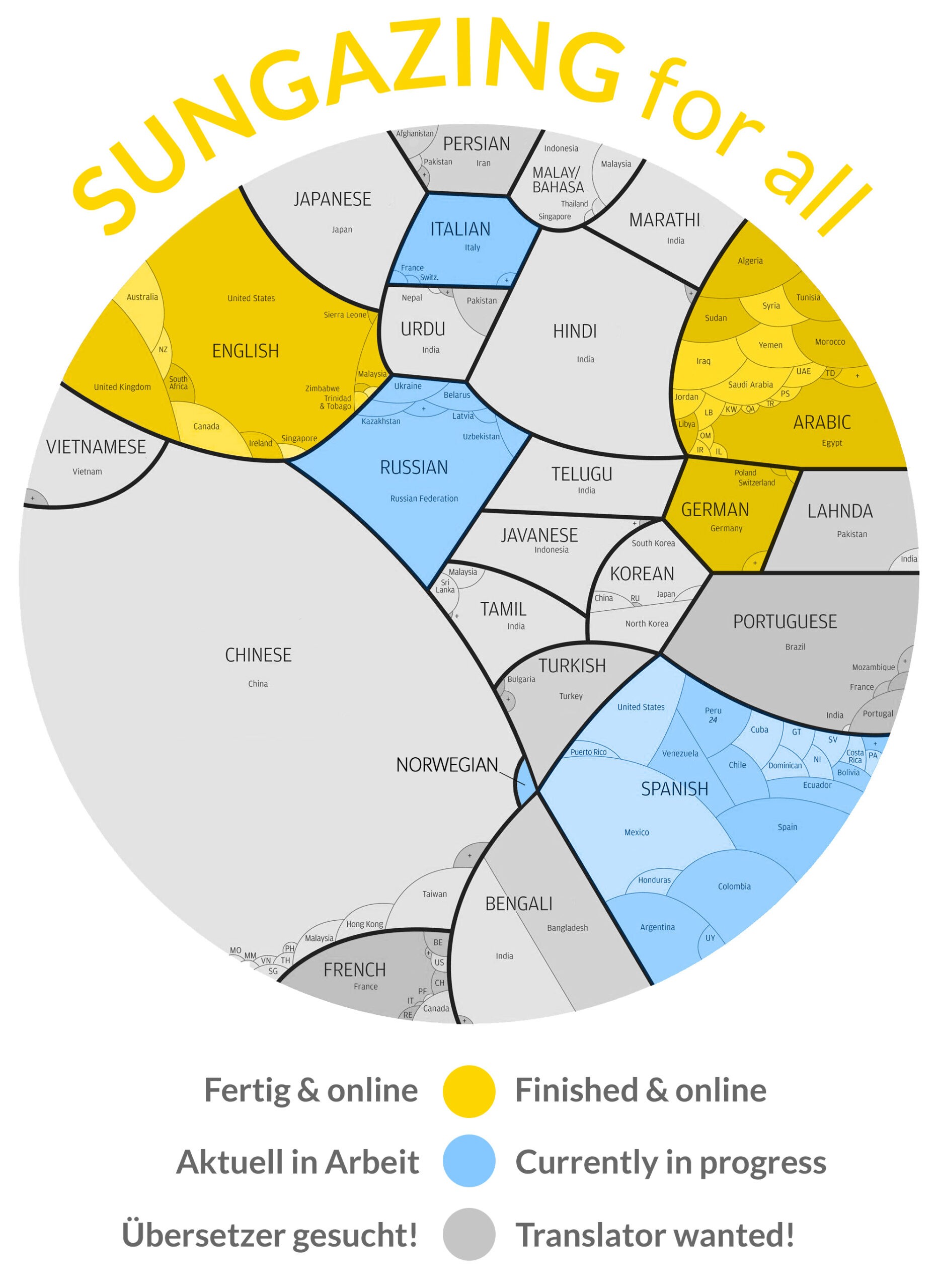 ---

Volunteer helpers
English
Niklas Gamsjäger & Sandra Nausedat
Norwegian
Laura Winter
Arabic
Salma Amr
Sunny thanks !
---

Please note: All updates regarding the translation progress will only be updated in english and german language! Please take a view here: german | english
Please note that no promises of healing are made here.
All content is for information only and each application is at your own risk.